Becoming a home owner can cost you a quite a bit, especially in our economy but a new solution exists for veterans of the military, emergency first responders (paramedics/ EMT), police departments, school teachers, universities, and medical centers, and even nonprofit organizations including those in the clergy can reduce their costs greatly when buying a home.
Many of our hometown heroes are saving thousands of dollars when they buy or refinance their homes using the free program, Homes For Heroes.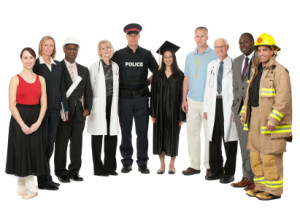 As a public servant, you may wonder if an opportunity to receive some perks exist. Well, you're in luck if you're in the market to sell your home or buy a home.  The Hometown Heroes program attempts to give back to people who live and give so much everyday towards the community. This would cover personnel in: the  Law Enforcement, Public & Private Schools, Fire Departments, U.S. Military, Non-profit Organizations, Universities, and Medical Facilities.
Several thousand dollars can be kept in your pocket through a variety of programs which will help save substantial money for prospective or current hometown hero homeowners during the transaction process. Some of the advantages for people looking to buy a home are: no-cost pre-approvals, appraisals, physical home inspections, standard home warranties, and title insurance. If you want to sell your home using the hometown heroes program: lower realtor commissions and transaction costs. As a homeowner simply looking to refinance, you can receive a credit at closing for the appraisal or basic home warranty.
To lean more about eligibility for the hometown hero program, get in touch with 1st Nationwide Mortgage to take advantage of an exclusive program for those who make sacrifices and differences in our lives.