Gone are the days where you could say you make "x" amount of dollars and you are approved fairly quick. Today, lenders are required to conduct considerably more due diligence on existing homeowners and buyers than years ago. Additionally, the recently introduced riles from Dodd-Frank combined with what economists call the Great Recession, countless mortgage applicants will not pass the test.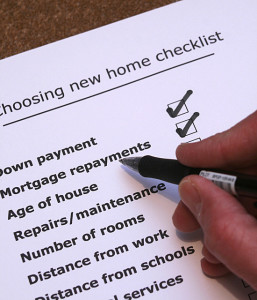 But that is not a reason enough to call it quits and rent forever or stay locked into a higher rate forever. Here are some ways to improve your chances of approval.
1. The most important move when shopping for a mortgage is to get a hold of your credit report and confirm what is on there is accurate. The borrower's credit score is used in the process of figuring out what interest rate one will get, so keeping a high credit score is extremely important.
If you have an account that you are disputing always have documentation to back it up. Nowadays be prepared to over document and provide what the loan officer requests as it has become the norm recently. Credit experts also suggest paying off collections and credit card balances prior to applying for a loan.
Keep your debt levels low, preferably below 20-percent of your maximum available limit. On-time payment history is one of the best ways to keep your credit high.
2. Don't conceal anything from your application as it will likely come out especially when it comes to your income or assets. Remember mortgage approval with as few conditions as possible is the goal.
Be as accurate as possible on your mortgage application. Be ready to provide documentation for extra income such as bonuses, tips, cash income, etc. Be certain you official monthly records for all your assets, such as CDs, savings, stock investment accounts, IRA, and a 401(k), regardless if you won't be using those funds for the home purchase."
3. For a purchase, the more money you put down your chances of approval increase.
Lenders see the size of your down payment as being more risky or less of a risk when have a large down payment.
Keep in mind that family members or friends are allowed to contribute to your down payment for many loan programs. as mentioned previously, borrowers will have to provide documentation from the friend/relative that it was a gift and that you won't be required to pay them back.
4. Focus on what you can comfortably afford more than getting the lowest rate. Assess your total financial picture, your other monthly payments and if applicable business fees.
5. Borrowers should review other offers from other lenders by do some due diligence by comparing good faith estimates to review the lenders fees, points, and if there's a prepayment penalty if an opportunity to refinance in the future becomes available. with rates are decade lows, borrowers also need to know if it has an adjustable rate, what the margin, index, and maximum rate changes are.
6. If you are considering a refinance , be realistic about the value of your home.
Find out your neighborhood's property value by consulting with a local real estate agent or Zillow prior to applying for a new home loans.
It may not be wise to start a refinance while the house is still in remodeling phase as it be appraised by the lender's licensed appraiser. Before they come out to your home, be sure to provide a list of any home improvements or repairs you have made such as flooring, siding, copper plumbing, and heating and cooling systems.
7. Fixed-rate home loans are not just for 30 years, they can also be for 10 years, 15 years or 20 years. Neverthless, the 30-year product remains the most widely chosen because your payments are the lowest. Unlike the traditional fixed-rate home loan, which comes with a permanent fixed rate throughout the term of the loan, an adjustable-rate mortgage, or ARM, may change from each year.
A very popular loan the last few years behind 30-year fixed mortgages are Hybrid ARMs, possibly due to them featuring elements of the adjustable-rate and fixed-rate loan.
Hybrid mortgages are flexible loan products as it allows borrowers to select from either a three-year, five-year, seven-year or 10-year fixed interest rate period that is usually less than a 30-year fixed. It is also popular product because homeowners anticipate moving within the fixed-rate period before it changes to adjustable with a rate that will adjust annually or every six month thereafter.
Bottom Line
Know what you want when you apply for a loan and comunicate that to your loan originator.