Fix Your Payment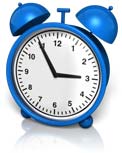 Say goodbye to your Adjustable Rate and Hello to a Fixed Rate Loan
Many homeowners with an adjustable-rate mortgage are looking into fixed-rate mortgages and questioning if they should refinance. With historically low rates, a lot of them have moved forward with new loan applications.
One of the most common reasons to refinance is to switch from an adjustable-rate mortgage to a fixed-rate mortgage. You should strongly consider doing so if:
The fixed portion of your ARM is expiring within a year or two
You have an ARM that has already started to adjust
You have a balloon payment
In some cases, borrowers with an ARM interest rate 1% below today's fixed rates still refinance for the added security of a fixed payment and knowing they will be in the home for a long time. At some point, interest rates will rise from zero and so will adjustable rates, so it is a smart move.
Why Choose 1st Nationwide
We have experience helping homeowners get the best possible mortgage for their situation and explain all aspects of financing and your options.
Popular Loan Products to Fix Your Payment
30-year fixed mortgage
10-Year ARMs
Get a Quick Mortgage Quote!