Are you aware that 25% of home purchase transactions are completed without any sort of financing? This comes from data provided by the National Association of REALTORS®. However, these all-cash buyers are not far removed from using their own funds for very long.
"Cash out" refinances are available to buyers without a mortgage just 24 hours after closing.
This done using a special Fannie Mae loan program called "Delayed Financing".  In years past, U.S. home buyers and real estate investors were forced to wait 6 months after the closing date to refinance a home bought with all-cash.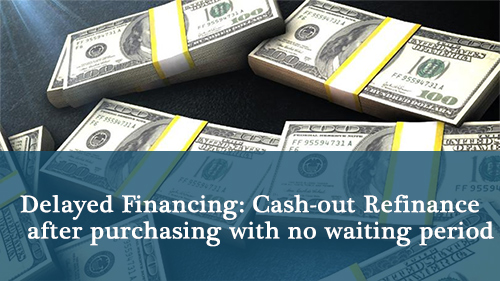 You are now able to refinance your home in California (and most states) just one day after the purchase closes, and still obtain today's historically low rates.
The "Delayed Financing" Mortgage Program
Fannie Mae launched its Delayed Financing Product in mid-2011. It's main objective was to get homes off the seller's hand which were not able to be purchased due to them being inhabitable for a large number of problems.
Problems ranged from no electrical, plumbing, lead paint, a broken roof, cracks in foundation, or broken windows.
As a result these homes typically were transferred into the new buyers name at attractive, rock-bottom prices for buyers who had the liquid funds.
The goal is simple for the buyer who is able to purchase a home with all cash, complete the required home repairs to make the home "livable", and then start a cash-out refinance to get back the funds used to facilitate the purchase.
Another popular way Delayed Financing is used is to help buyers on their purchase offer. If they can prove they can close within 2-3 weeks of signing a purchase contract, the seller is likely to choose their offer.  When using financing, the possibility of a closing delay is much higher due underwriting guideline changes, sudden interest rate spikes when a loan is unlocked, and appraisal issues.
To be eligible for Delayed Financing, a borrower need to only meet certain eligibility standards:
Similar to regular financing, any cash used for the purchase has to be sourced to a financial institution
The new loan amount cannot be more than the property's original purchase price
No other liens are present when doing a title search on the purchase home
A certified final HUD-1 statement from closing is needed to confirm the sale
The Delayed Financing program limits the cash-out refinance loan amount up to 70% of its appraised value, available on single family homes, townhomes, condos, or 2 4-unit properties.  Usage can be as a second home, vacation home, or rental property.